International Topsellers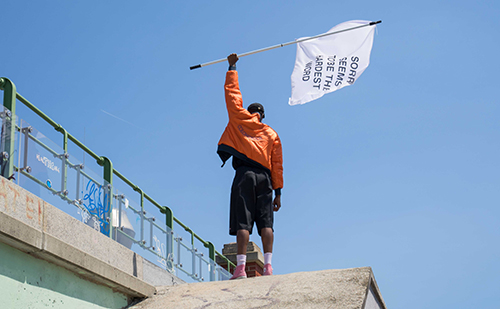 INTERNATIONAL TOPSELLERS is a collective exhibition format conceived by Lucie Freynhagen, Paul Barsch and Svenja Wichmann which considers itself simultanously as a performative Event and an extensive Installation. The Exhibition Format works at the Intersection of contemporary Art, Fashion, Theory, Consumer Culture and Performance. So far there have been five Editions, each one with a specific focus, concept and title referring to the context of the City the Edition was taking place in. Each Edition included up to 40 works of german and international artists.
Dresden International Topsellers @ Künstlermesse Dresden, Januar 2016 / REAL TIME SYSTEMS @ various public places in Los Angeles, Feb. 2017 / HUMAN PRODUCT @ Kunsthalle Exnergasse, Wien, Juni 2017 / stardust @ Neuer Kunstverein, Wuppertal, Juli 2017 / Reasons to Believe @ ung5, U-Bahn Haltestelle Ebertplatz, Köln 12.1. -25.2.2018 / planned for 2019: Kampala, Uganda
www.internationaltopsellers.com
___________________________________________________________________________________________________
Dresden Project
The Dresden Project is an ongoing project that aims to explore and establish interrelationships between several places named Dresden in the United States and the City of Dresden in Saxony, Germany from an artistic point of view. A Journey to the towns and villages named Dresden in the US was the heart of the project and included
Dresden, Maine
Dresden, Washington County, NY
Dresden, Yates County, NY
Dresden, Ohio
Dresden, Tennessee
Dresden, Kansas
I am interested in the differences and similarities of culture, history and everyday life in the several places named Dresden. The project is supported with a stipend for postgraduate studies by the state of saxony, Germany.
For further Information on the Project please write an email to wichmann.sv (at) gmail.com
assistenz / assistant Mirka Pflüger
___________________________________________________________________________________________________
Dresden Public Art View, 2014
in Zusammenarbeit mit / in cooperation with Lucie Freynhagen
DRESDEN PUBLIC ART VIEW seeks to position artistic approaches outside of existing Art-Institutions in public every day life. 50 artworks of local and international artists were shown on 50 Billboards in Dresden, Germany from 29.7. -7.8.2014.
The perception of art is often influenced by institutional locations, rituals or events which create an aura that makes it hard to encounter art impartially and open minded. In the spirit of Klaus Staecks "Die Kunst findet nicht im Saale statt" (art does not take place in the hall) DRESDEN PUBLIC ART VIEW seeks to understand public space as a complex site for art that is accessible for everyone.
www.dresdenpublicartview.tumblr.com
C. Rockefeller Center for the Contemporary Arts


___________________________________________________________________________________________________
Picasso in my casa, 2014
in Zusammenarbeit mit / in cooperation with Anna Bründl
The Project was shortlisted for Curate Award 2014 by Fondazione Prada and Quatar Museums Authority
www.curateaward.org